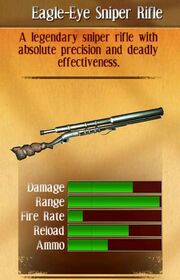 A legendary sniper rifle with absolute precision and deadly effectiveness.

—In-game description
The 
Eagle-Eye Sniper Rifle
is a sniper rifle. It costs 30 
Sheriff Stars
.
Statistics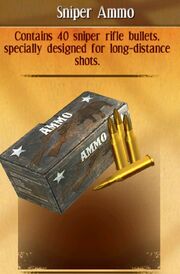 Damage: 40 HP per shot when not upgraded and 60 when fully upgraded.
Range: Extremely good.
Fire Rate: Like all snipers, it cannot shoot at a fast rate.
Reload: Decent.
Ammo: Very low. 1 round when not upgraded, 12 rounds when fully upgraded.
Trivia
This weapon or any other sniper rifles is required to do Eagle-Eye and The Outlaw Hunter missions.
It has the second highest damage in all sniper rifles in single-player after The Inevitable End and in multiplayer.
It has an insanely long scope similar to the M1903 Springfield from WW2.
Gallery
Weapons

Melee (without ammo)
Handguns
Rifles
Shotguns
Sniper Rifles

Eagle-Eye Sniper Rifle
Special