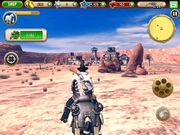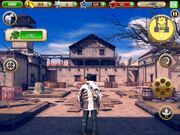 Fort Malanoche is a fort in Arizona located on the southeast of Los Arcos. There are many Chicken God Totems, a Confederate Dollar (near the Wild Apple tree), and an Anti-Vampire Tonic. There's a mission where the player must wipe out the outlaw gang who took it over, it is Malanoche Assault. If you go up the middle flight of stairs you will discover a door is closed and cannot be opened, same with the other hallways. Strangely, horses cannot enter the fort.
Trivia
It is unknown if this fort was used for military combat.
Snakes and armadillos randomly wander around the outside of the fort area.
"Malanoche" is Spanish for "Bad Night".