How much horsepower does this have? All of it.

—In-game description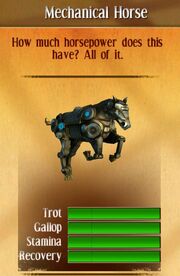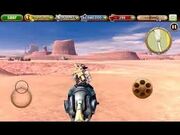 Mechanical Horse is no doubt one of the best horses. It cost 98 Sheriff Stars (once 100). It can also be obtained by purchasing the Law Enforcement Pack (which also includes the Sheriff Outfit and the Impaler). All of the bars in this horse's stats are almost full, which makes this horse so special.
Statistics
Trot: Very good at trotting.
Gallop: Fairly good gallop.
Stamina: The stamina lasts very long. However, this bar was decreased a little bit.
Recovery: The stamina bar refills quickly.
Trivia
When damaged, the horse emits smoke and blue electricity. When killed, it explodes, but doesn't cause damage. The explosion is similar to an explosion caused by the Flak Cannon.
This is one of the two other Mechanical horses the other being the Black Steam Horse.
The stamina bar was decreased, although nothing is changed in the horse.