Necropolis is a Multiplayer map. It was released in version 1.9.0. It resembles the main scene in the final storyline mission.
This map consists of ruins. The map has several crystals in it and also has a lot of objects to take cover behind. It has strange carvings and glyphs. Each team base has a circle with crystals.
Trivia
This is one of the bigger maps in game.
Bugs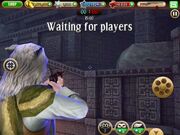 There is a small piece of wall that isn't covered with a texture yet and is very easy to spot.
Gallery