Rusty Gun

Type
Handgun
Uses ammo
Gun Ammo

Damage

5 HP
Cost
 250
A rusty weapon used by the most infamous outlaws.

—In-game description
Rusty Gun
is a revolver that
must
be purchased for 250
coins
at the beginning of the game. It is the first weapon
Buck Crosshaw
obtains.
Statistics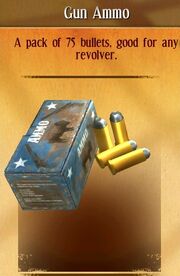 Damage: Not good – it can only do up to 5 HP when fully upgraded.
Range: Rather average range.
Fire Rate: Quite slow. However, it is fast when fully upgraded.
Reload: Fast.
Ammo: Quite promising but still quite low. Fast fire rate and low damage makes the ammo run out a lot faster.
Trivia
The Devil used this weapon along with with his Spheres.
It looks like it is based off of a LeMat Revolver, but with a few differences.
Though its name says "Rusty Gun", it really doesn't show any signs of rust or wear.
Bugs
Using a Rusty Gun right after a shotgun in Multiplayer will increase its damage.
The Rusty Gun will trigger a bleeding effect if used while reloading a shotgun.
If you shoot this gun and quickly switch, the gun you switched to will deal how ever much the Rusty Gun can do for only one hit.
This weapon is also used for shooting at the Lottery.
When this weapon is disowned and bought again, then it prints a purchase message identical to the Lee Navy Bolt-Action.
Gallery
Weapons

Melee (without ammo)
Handguns
Rifles
Shotguns
Sniper Rifles
Special