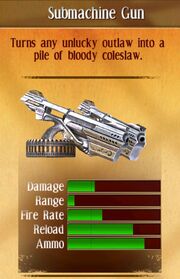 Turns any unlucky outlaw into a pile of bloody coleslaw.

—In-game description
Submachine Gun
is a handgun
weapon
. They can only be obtained by winning the Silver Bullet Chest in the
Lottery
, or buying it for 199
Sheriff Stars
in a sale, but it is rare.
Statistics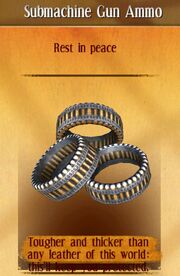 Damage: Low, but combined with the fire rate, this makes it quite damaging. In Multiplayer, the stat is increased to around more than half the bar.
Range: Decent stat for a weapon like this. The range is improved.
Fire Rate: As a submachine gun, obviously it is going to be quite fast.
Reload: Quite fast. Similar to Dual Guns.
Ammo: Plenty of ammo to kill your enemies, up to 130 rounds upgraded.
Trivia
Like the Swarm Gun, it can only be obtained from the Lottery, but sometimes you're able to buy it for 199 Sheriff Stars for a limited time.
Probably the rarest weapon in Six Guns due to the fact that the Submachine Gun is the hardest weapon to be won in the Lottery.
It looks to be a Bullpup due to the magazine being behind the trigger.
Its name is singular, but they are in fact two weapons.
The shots fly in different directions if you're not aiming or shooting at targets from a distance. It works perfectly at close range.
They are the only double weapons which fire both guns when moving around in random direction.
There is glitch where the Submachine Gun can be bought for 10,000 coins in the store.
Gallery
Weapons

Melee (without ammo)
Handguns
Rifles
Shotguns
Sniper Rifles
Special