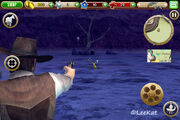 The Beast is a boss animal in Six Guns. It appears to be a yellow rabbit-like creature with black stripes on its tail, it hops just like a kangaroo. It is harmless and has low health, dying on 1 shot.
Location
The Beast is located directly south of Eagle-Eye, next to a Dreamcatcher.
Achievements
| No. | Name | Description | Outro | Icon |
| --- | --- | --- | --- | --- |
| 26 | The Beast | Successfully kill the Beast. | It was once the most feared creature in the West... and now it lies at your feet. | |
Trivia
The Beast has only a base health limit of 5.
It will never respawn, which makes it a boss creature.
The dolls in Jama-Jama are modeled after it.
It must be killed to get the Top of the Food Chain achievement.
It is described as deadly and murderous, but in reality it's harmless.
There is actually a small chance for it to respawn.
Gallery